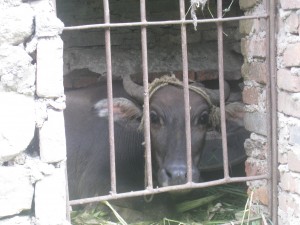 The main page of Kodesh Kallah pretty much tells you the essentials, I just thought I'd take the time here to introduce myself and say a little more about it. My name's Tom Ackerman. I'm a Messianic Jew. I was inspired to begin this webpage, and this organization, because of the terrible state of the Body of Messiah, the defiled state of the holy Bride.
Not only that, but I felt that I must start this website because of the extraordinary difficulty of seeking change directly in ministry. As anyone mildly acquainted with ministry might know, it is heavily compromised, and not at all prepared to be the radicals we need be to serve our Savior. So while I will still try within those channels [have since been asked to leave my job, which is my honor before Almighty God], I'm also going to try and work independently, and encourage you to do so also. Let's reform our lives, our families and our congregations. Let's change the world.
You might notice that there's a decent amount of Hebrew lingo in this website, starting with its name. That might confuse a few people, but I'll try and include a translation, the first time a term appears. I don't include the Hebrew because I'm trying to create a Hebrew roots focus, but only because it is natural for me as a Messianic Jew to include it, and I think it enriches them meaning of our faith and our doctrines. Basically, I just like it. And you know, our Savior was a Jew.
You will find an invitation to join our Sacred Community here, which you can join as Member, Friend or Ally. I definitely encourage people to spend time learning about the subjects and meditating on them before making commitments. I also ask you to take them seriously. This isn't for entertainment purposes. It is for sanctification purposes. There may be more interactive elements later, but for now I'm still putting up material. I would be interested in hearing from people who are seeking holiness in their lives, or who are seeking to bring holiness or reform to their congregation. I'm certainly willing to publish a few letters of that kind also.
I hope it will be a valuable experience for you here. We are still under construction and will be for a while, but the website already has a large amount of the intended material. Please be patient while I put up more. Feel free to write me at the E-mail provided on the main page and in the footer: kodeshkallah@yahoo.com.
May the Lord bless and keep you.
Bashem Yeshua.
Tom